The safety of Micrelec payment terminals
Sint-Denijs-Westrem, May 5, 2018

The hardware and software solutions that Micrelec releases, comply with strict safety standards.
This also applies to the payment terminals that are in accordance with international safety regulations and standards. The outdoor temrinals, as installed by Micrelec, are equipped with payment modules supplied by Atos Worldine or CCV, that are suitable for integration. The devices coming from these highly recommended suppliers meet with all the current standards for safety and fraud prevention like EMV and PCI/DSS. Furthermore, the different elements in the construction of the payment terminals ensure safe transactions.
EMV and PCI DSS
The EMV standard (Europay, Mastercard and Visa) is a technical standard that relates to payment cards and payment terminals. This standard, more specifically, concerns the chip that replaces the magnetic strip in bank cards. With EMV transactions, more safety related information is transferred than with transactions with magnetic strip cards.
This allows the card issuer to follow the progress of transactions and to process customer requests more efficiently.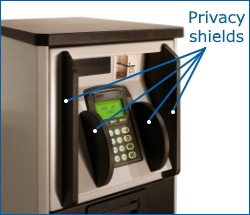 For more information, go to the Visa website or even Wikipedia.
PCI DSS (Payment Card Industry data security standard) regulates the data safety of transactions. More details here.
Safe housing guaranteed
he housing on the Micrelec payment terminals also contains several elements to prevent theft.
Robust material
Privacy shields that keep waiting customers from watching when the customer enters their pin codes
Electronic locks
The Micrelec payment terminals are equipped with electronic locks. There are 3 ways to open them:
Using a pressure switch inside the station
Via an online instruction
By inserting a service card into the card reader.