The Micrelec Nano Site Controller
Micrelec has decades of experience in manufacturing site controllers, the heart and brain of every gas station.
This expertise, combined with profound technical mastery and knowledge, have led to the development of the Nano site controller, the smallest one in the market, equipped with the latest new and powerful electronic components..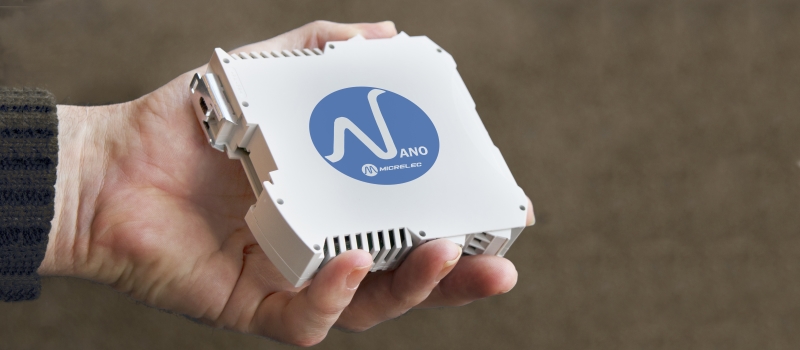 Hardware
The Nano site controller is unusually small and consists of different separate modules that each fit in one hand.
The modules can be easily mounted onto a DIN rail with a simple click. They are connected to one another by a connector in the DIN rail.
The core of the site controller, the elements that will necessarily always be present, consists of the following modules:
The power module: 24-volt main power supply with watchdog function
The controller unit: Intel Atom based PC ; Windows 10 operating system site controller
De forecourt link controller: constitutes the interface between the site controller and all peripherals on site.
In addition, the necessary pump and peripheral interfaces have to be added.
The type and quantity of these interfaces depends on the specific station configuration.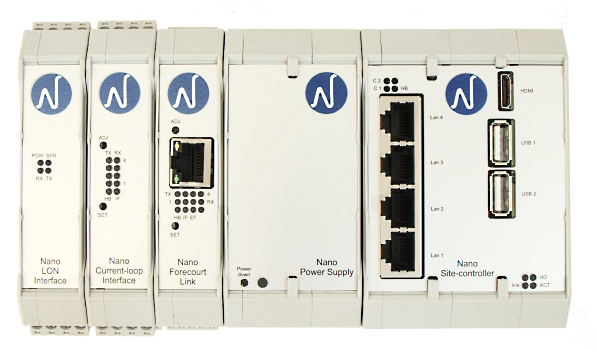 Technical specs
Dimensions
Power modume (HxDxW): 112,5 mm x 99 mm x 45 mm
Controller unit (HxDxW): 112,5 mm x 99 mm x 67,5 mm
Forecourt link controller (HxDxW): 112,5 mm x 99 mm x 22,5 mm
Interface modules (HxDxW): 112,5 mm x 99 mm x 22,5 mm